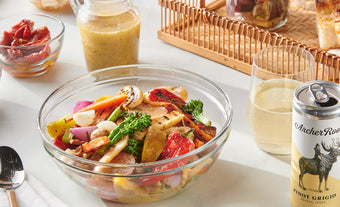 Impress your guests with our newest recipe, Tuscan Antipasti, made with an Archer Roose Pinot Grigio marinade. Savor the flavors of Italy with this dish that's crafted to share.  Chef Adam Moore, our longtime recipe designer, created this recipe to...
---
Edamame, Wasabi, and Mustard Green with Black Vinegar Wasabi Dipping Sauce Makes about 50  6 Napa cabbage leaves  1 tablespoon plus 2 teaspoons kosher salt, divided  [1/2] cup vegetable oil, such as canola, divided, plus more as needed  1 pound...
---
By: Sebastien Laforest As a restaurant owner, cookbook author and James Beard Foundation Award winner, Chef Joanne Chang has made quite a mark within the culinary industry. Her Massachusetts based eatery, Flour Bakery, has flourished over the years growing to...
---